Summer 2021 bacon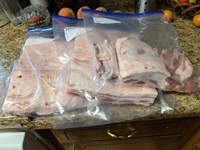 I ordered a big pork belly last month — over 13 pounds! It was big enough that the butcher asked me whether I was really sure I wanted the whole thing. Oh yeah. Broke it down into three batches of bacon.
Batch 1 — Austrian flavors
For the first batch I revisited the Austrian cure recipe from a few years ago.
2,583g pork belly
65g basic cure
13g juniper
4 bay leaves
22g black peppercorns
8g caraway seeds
12g granulated garlic
6g brown sugar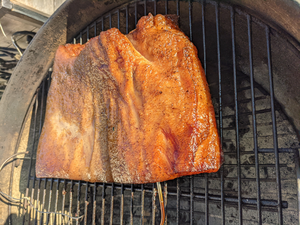 For all three of the batches here I used the same curing technique: first spread the cure all over the belly, then all of the flavoring spices, in a big zip-closed plastic bag that then goes into the refrigerator (not the freezer — that was a typo!). Every few days I rub the spice around and turn the slab over.
I ended up letting this one cure for about three and a half weeks, instead of just two, due to life happening as it sometimes does. Then I smoked it (just in a Weber grill with a small fire off to the side) up to 160°F.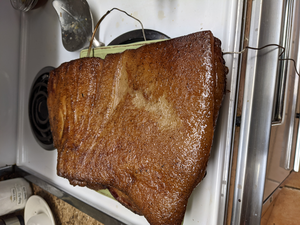 It's delicious. Right now I've only tasted little trimmings, but I'm really looking forward to having this at breakfast.
Batch 2 — Fresh herb
It's the time of year for fresh herbs, and they can flavor bacon just as well as winter spices.
2,112g pork belly
52g basic cure
16g fresh sage
About 5g fresh majoram
6g fresh thyme
3-4 inches lemongrass stalk
3 cardamom pods
½ tsp. yellow mustard seed
½ tsp. corander seed
2 bay leaves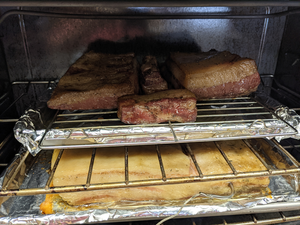 Grind all of the spices together into a paste, and rub it onto the belly after the cure.
The herb flavors would be drowned out by smoke, so instead of smoking I heated this one very gently in the oven: on low heat, door just slightly ajar to let moisture out, up to 180°F for a few hours. I pulled it right when the center reached 180°F.
The fat that leaks out from this one is exceptionally nice, and worth saving for stovetop cooking.
Batch 3 — Pancetta
With the parts I trimmed from the two big batches to get them to fit in their bags for curing, I made pancetta.
1,377g pork belly
34g basic cure
20g black peppercorns
18g brown sugar
11g granulated garlic
14 juniper berries
4 bay leaves
¼ pod nutmeg
1-2g dried thyme
Traditionally after curing, pancetta is coated with additional course spices and hung to dry. I don't have a good place for drying — our basement is too dry, so the moisture on the interior would get trapped and rot — so I oven-dried it with the herbed bacon, and left it for a few hours after the herbed bacon had reached 180°F.